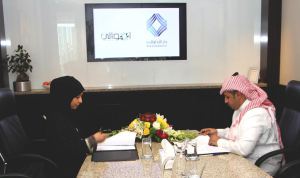 Translated by: Mr Faisal AlAthel
Amwaly Offices for Financial Consulting (non-securities) has recently signed a strategic agreement with Dar Atdawelat Corporation for exchanging services, where the agreement serves individuals who suffer from financial difficulties or who are financially distressed; this is done through a debt settlement program that is owned by Dar Atdawelat Corporation under the slogan "Financing Solutions to Flourish Livelihoods".
Dr. Samar Al Qahtani, Founder and General Manager of Amwaly Offices, clarified that clients from different backgrounds consider the concept of financial planning and saving fairly new, and is viewed as a luxury not a necessity.
She continued: "The importance of this agreement with Dar Atdawelat Corporation lies firstly in that the corporation is independent, meaning that it chooses the best offer for its client without imposing bank services from a particular bank, in addition, it helps a category of financial planning services clients who need personal debt settlement as the first step in organizing their financial lives.
Moreover, Dr. Samar mentioned that the concept of financial planning in Saudi Arabia is limited to two cases: the first case is as a service offered by banks to its clients but sells its products through it, and some require a minimum balance in the client's personal account; the second case is as an awareness campaign for the community with no specialized financial solutions.
And she added, "Based on the results of a survey conducted on families spending and income, which is presented by the General Authority for Statistics, the monthly spending rate of Saudi families is SAR15,367 and its average income is SAR 13,610, which indicates the urgent need for an independent financial planning service provider.
Amwaly Offices is considered the first independent office in the Kingdom of Saudi Arabia that provides Financial Planning services for individuals and families to assist in achieving their financial goals under the management of a certified financial planner. In addition, the financial planning service offered by Amwaly Office is considered one of its many consulting services offered.
According to Mr.Ahmad Al Hamdani, General Manager of Dar Atdawelat Corporation, the new partnership reflects our commitment towards providing superior service to our clients, in addition to adding all that is new and in the client's interest from to our list of services.
Mr Al Hamadani, added that solving a client's financial distress through debt settlement followed by a financial plan will help the client not to fall for the risk of financial distress again in the future, seeing as that throughout the past years we have found a group of our clients repeating the same financial mistakes considering their lack of proper scientific financial planning tools awareness, and here lies the importance of the partnership with Amwaly Offices.
Furthermore, the primary goal of the partnership is to improve the financing experience for clients and allowing them to possess an enhanced financial life; knowing that the increase in the percentage of personal consumer loans for individuals, which exceeded the SAR 322,8 billion barrier, includes SAR 9.6 credit cards debts in addition to real estate loans worth SAR 94.2 billion (in accordance to what was published in the Monthly Statistics of the Saudi Arabian Monetary Agency for the first quarter of 2015) is considered a challenge for traditional financial services in the market.
News Source: http://www.maaal.com/archives/73213