Editor: Mr Faisal AlAthel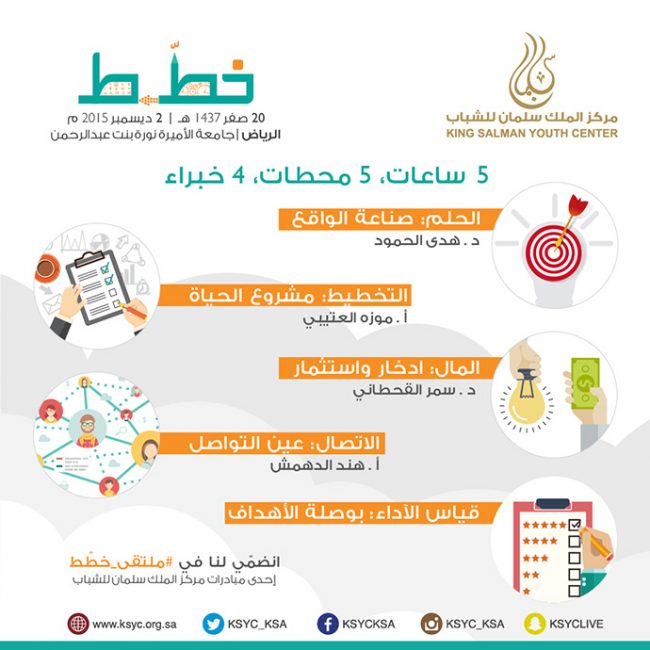 (PLAN 4) is one of a King Salman Youth Center initiative that hosts a wide range of experts and specialists to talk about planning and success.
The gathering was held on Wednesday, 2nd of December 2015 in Princess Nora University, Amwaly was one of the speakers in this gathering through a hub named (Money Saving and Continuity) where Dr. Samar Al Qahtani, Certified Financial Planning and Consultant, has presented her participation about the method of personal financial planning, establishing financial plans and raising cognitive awareness and dealing with fiscal deficits through specialized scientific tools.
Other hubs were as follows;
(The Dream and Making it a Reality) presented by Dr. Huda Al Humood about how to create the dream and how to overcome accompanying obstacles and pressures, and the tools to make the dream come true.
(Planning – A Life Project) presented by Mrs. Mozza Al Otaibi where she discussed planning and its effect in life, and strategic planning since it is considered the first step in making the dream come true.
(Connection the Core of Communication) was presented by Mrs. Hind Al Dahmash where she spoke about the concept of communication, its steps, purposes, components that effects it, and specifications of good communication.
The gathering was successful where attendants reached more than one thousand seven hundred participants.